Guest Post by Christine Bove of www.christinebove.com
5 ways to dress sexy without looking trashy!
Sexy.  What does that really mean? It means having confidence, loving yourself, being playful and having fun with life.  Do you shy away from particular articles of clothing thinking they will make you look too sexy or even trampy?  Your problem is your mindset and your false beliefs: "sexy is for the young gals," "sexy is only for skinny girls," "sexy is only for single girls looking to find their mate." If you can relate to these beliefs it's time to trash them and create a new perspective.
I am sexy because I am confident, beautiful and know how to have fun. In Fashion Feng Shui®, The Pleasure Seeker essence AKA "Fire Girl" is all about being sassy, sexy and fun, but not every gal is the Fire girl. Although everyone has the Fire essence in them it's all about learning how to bring in their Fire essence to match their original essence of Water, Wood, Metal or Earth.
Let me show you how to embrace your Fire sexy essence in a way that feels comfortable for you.  If you don't know your essence take my Fashion Feng Shui® style quiz (click here and scroll down to May 2 blog post).
Let's meet our 5 essences and see how they embrace their sexy Fire essence within their natural more dominant essence.
The Philosopher Water essence is the free spirit, bohemian girl who loves to create her own unique look. Her favorite store is Anthropologie.  Sheer fabrics embrace her sexy essence,as do the neutral colors that match her skin (an easy way to incorporate sexy) the length of the dress is not too short, but enough to show off her sexy legs. She maintains her water essence through the flowing fabrics and natural girl look.
image courtesy of Anthropologie.com
The Wood Pioneer essence embraces her sexy essence with this sleeveless dress and sandals. Any sleeveless tops or dresses are an easy way to embrace the fire sexy essence.
Image from Banana Republic
The Fire Pleasure Seeker Essence loves to draw attention to herself with bold colors that scream look at me, sleeveless top, shorts and a pair of heels, she has no problem having all eyes on her with this outfit.
Image courtesy of Banana Republic
The Earth essence values comfort with this free flowing dress. It is the perfect length not too short or too long while showing off some leg.  Her scoop neck and sleeveless arms are revealing enough but not too much for this gal.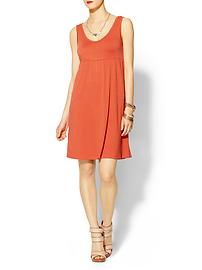 image courtesy of Piperlime.com
The Metal Perfectionist essence prefers clothes to be form fitting and of quality. She embraces sexy with a low V- neckline, sleeveless arms, high slits on both sides of her dress and sexy heels. She blends her metal and sexy with perfection!
Image courtesy of piperlime.com
Now I have shown you how to embrace sexy for every kind of gal. Now it's time for YOU to embrace your sexy in your wardrobe. How will you do that?
Please share your comments below.
---
About the Author:
"Feng Shui expert, Christine Bove, inspires successful women to allow their creative energies to flow into their environments, images and mindsets to improve their confidence, bring clarity to their future and set them up for success.   Sign up to receive her 5 Feng Shui video tips at www.christinebove.com."